Very few activities scream quintessential Sydney louder than lounging on the rooftop of a bar and sinking a few cold ones in the sun. Indoors is overrated (especially in a post-COVID world), so making the slow-climb to those daylight drinks is now the way to go when those temperatures push higher, and the "day for it" statements come flying in thick and fast. The shimmering harbour city has plenty of perfect spots for this, but to make sure you're not wasting your time you should at least be aware of the 17 best rooftop bars in Sydney.
From squeaky two-storey cocktail dens hidden in heritage buildings, to classic harbour-view watering holes where rooftop bookings are hard to come, as long as you're dragging your mates around to these bars you'll be doing your Sydney summer absolute justice.
Old Mate's Place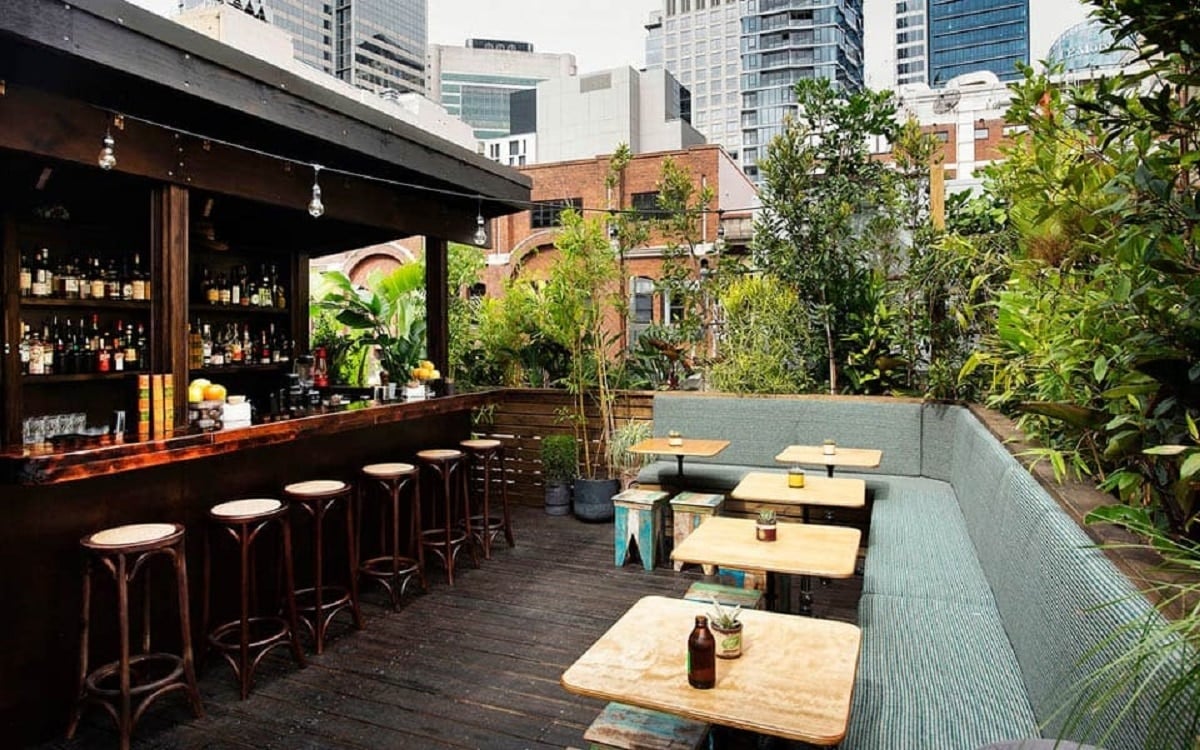 Taking up the top two floors of a heritage-listed five-storey building on Clarence Street, Old Mate's Place is steered by some of the industry's finest. You can expect a pristine cocktail list here, as well as a solid selection of tinnies and wines to either enjoy in those nutty brown leather booths on the first floor, or the neatly trimmed rooftop up above. Be warned though, there isn't much space on this rusty rooftop, so it's worth rocking up early and staking your claim.
---
---
Address: 199 Clarence Street, Sydney
Hotel Sweeney's
Possibly the most iconic rooftop bar in Sydney is Hotel Sweeney's, enviably located just a stone's throw from Town Hall. The long-standing pub recently got back into the swing of things post-covid, turning on the taps again and reopening their glorious, generously sized rooftop. Head on up to the third floor and grab an arvo ale when the sun's at its peak, and you might just stumble upon a sausage sizzle and a cheeky tap takeover while you're at it. Although there's always that reliable Thai kitchen in the pub, with the best orders being a full-flavoured chicken katsu green curry and the superlative black pepper beef.
Address: 326 Clarence Street, Sydney
Contact: (02) 9267 1796
The Glenmore Hotel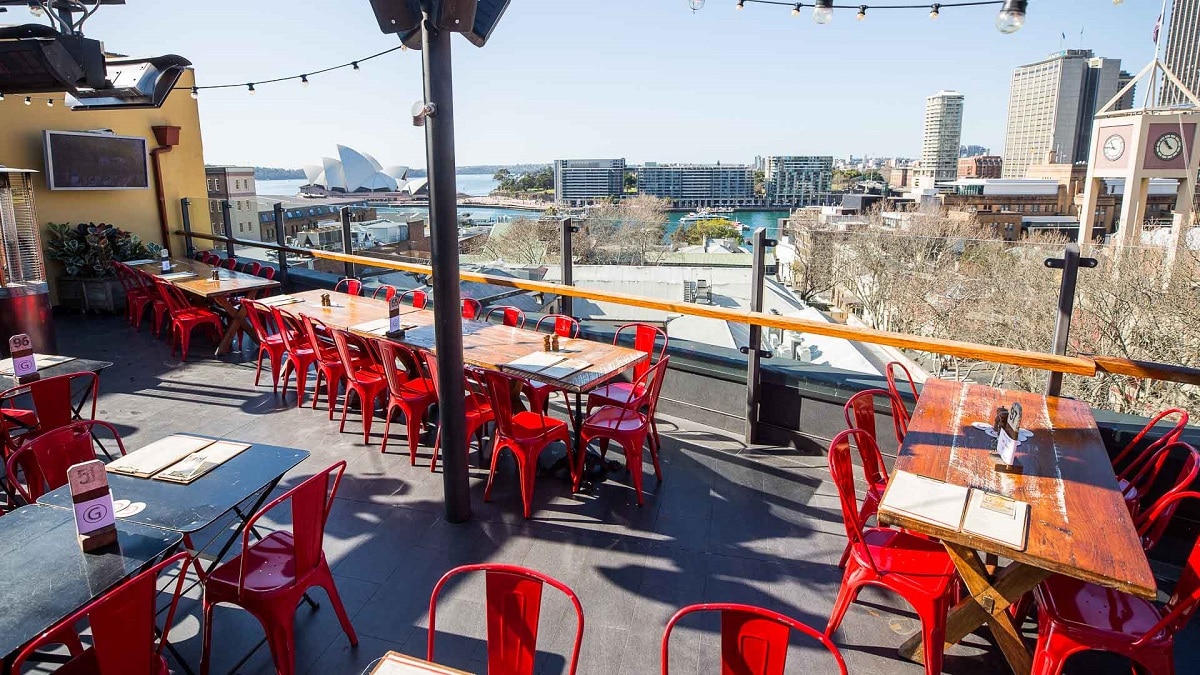 A clear view of the Sydney Opera House and Circular Quay power the vibe at The Glenmore Hotel, long considered one of the best rooftop bars in Sydney. The demand has never waned throughout the years, so you're best placed to plan ahead with a few mates before stomping up those stairs and bathing in the absolute spectacle that is a simple, unpretentious and unparalleled (angled) rooftop that just so happens to be the best located in the entire city. That goes double if you're rocking up on the first Sunday of each month, which is when the rooftop stages a delicious bottomless lunch for $85pp, with hearty lamb shoulder and roast chicken. 
Address: 96 Cumberland Street, The Rocks
Contact: (02) 9247 4794
Smoke Bar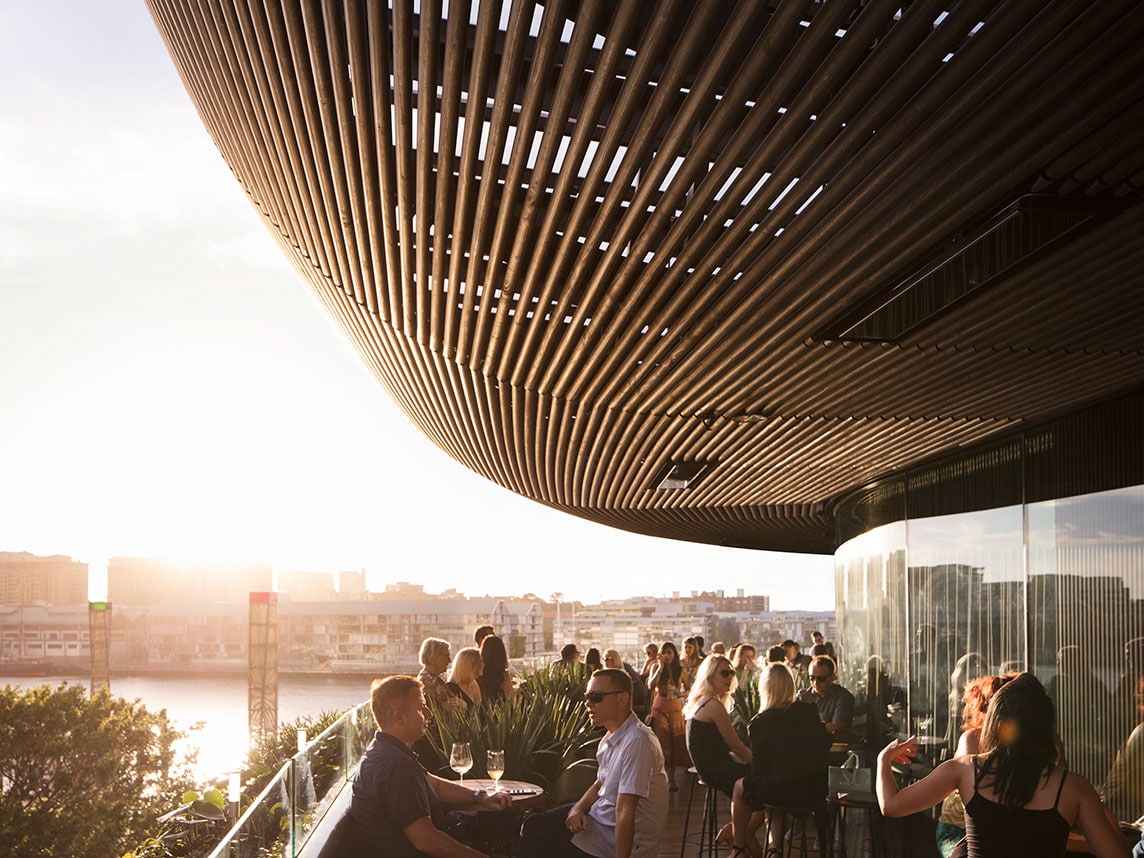 Smoke Bar at Barangaroo House might demand something a bit more premium than your go-to jug of Coopers, but the pricey day out is well worth your time. This is one of the best and most beautifully appointed rooftop bars in Sydney, and while a booking here is probably timed – due to high demand – a boys sesh here is never going to feel like a waste.
Address: 35 Barangaroo Ave, Barangaroo
Contact: (02) 8587 5400
---
---
Henry Deane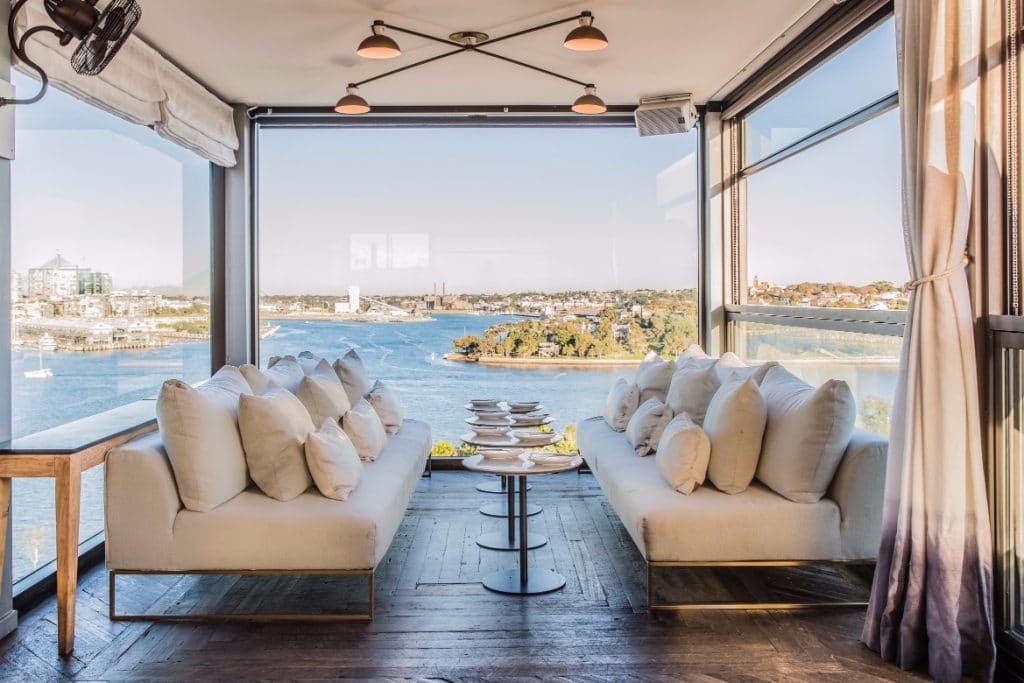 Sleek, sophisticated, and splashed with salmon pink lounges, Henry Dean's is a dreamboat as far as the best rooftop bars in Sydney go. Walled by massive, constantly polished glass windows, the top floor of Hotel Palisade aggressively pulls in the best views of Sydney and complements them with fresh seafood platters, session-able cocktails and a respectable list of beers, spirits and wines.
Address: 35 Bettington Street, Millers Point
Contact: (02) 9018 0123
The Light Brigade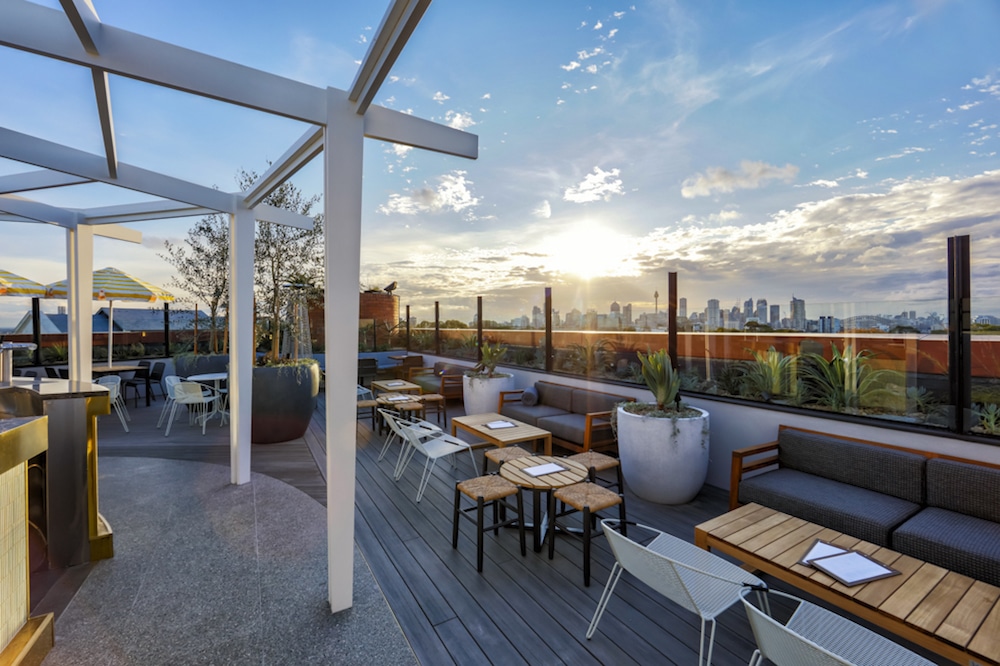 As good as the rest of The Light Brigade Hotel is, the Woollahra pub simply wouldn't be as much of a powerhouse without its massive, open rooftop bar. The top floor was the best decision the Bayfield family made when they took the reigns of the legendary venue circa-2015, making full use of the location with an incredible view boosted by a supreme list of Aussie crafts and premium wines. 
Address: Crnr Oxford Street & Jersey Road, Woollahra
Contact: (02) 9357 0888
The Butler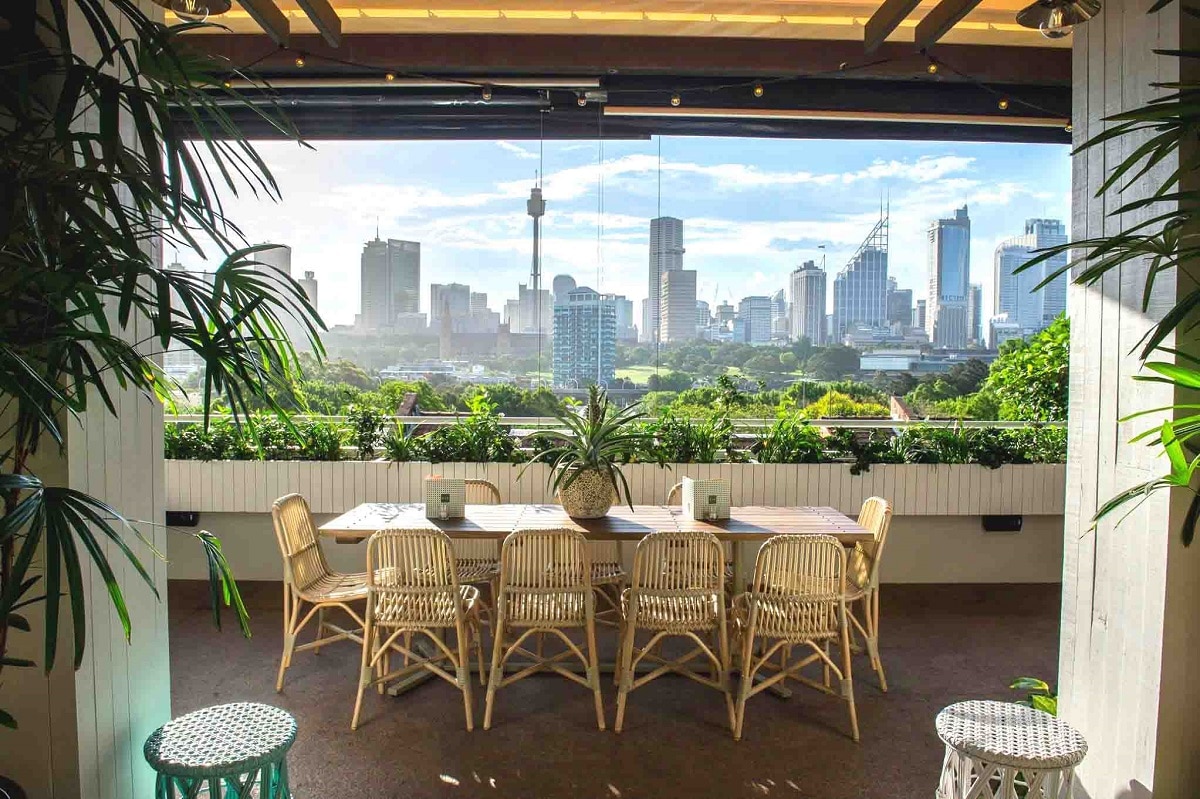 If you're heading through this Potts Point hotspot, then be sure to bypass the inside dining spread for a hard-earned spot on the outside garden terrace. The Butler may not be defined as a rooftop bar, but this small part of the restaurant jutting out and overlooking Potts Point is without any doubt one of the best outdoor spaces in the area. Grab a few cocktails from the bar inside and bring them out here for the ultimate summer sesh.
Address: 123 Victoria Street, Potts Point
Contact: (02) 8354 0742
Coogee Pavilion
Now that the Coogee Pavilon's middle floor restaurants are finally open, Merivale's beachside megavenue has never been more popular. Although the rooftop is still the place you want to be if some post-swim summer drinking is on the schedule. Not only are you going to the beachside breeze, but the rooftop is also big enough that it almost never feels overcrowded, despite being the most popular address in the area.
Address: 169 Dolphin Street, Coogee
Contact: (02) 9114 7321
ivy Pool Club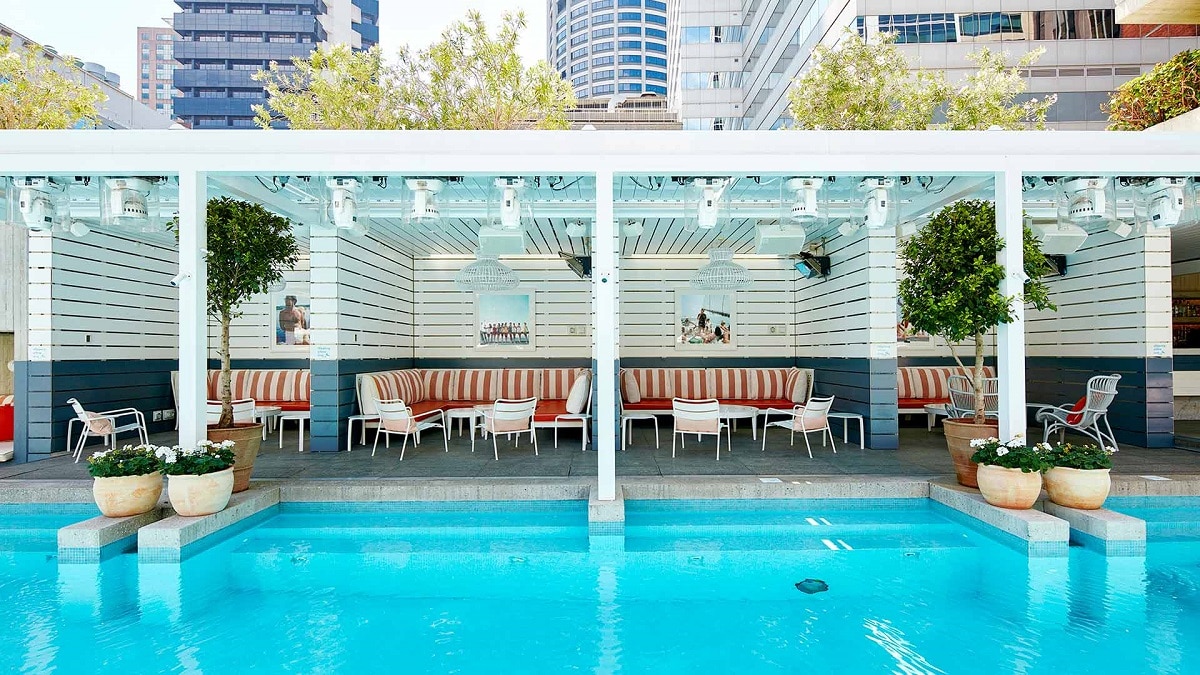 The more party-minded, influencer-laden vibe up at ivy Pool Club may not be for everyone, but it's hard to deny the impact this rooftop bar has had on the city's social scene. Regular parties, a top quality Italian restaurant (Uccello), and a discerning drinks list makes this one of the best rooftop bars in Sydney, and the only one where you can get your kit off and go for a dip in between drinks.
Address: 320 George Street, Sydney
Contact: (02) 9114 7307
Slim's Rooftop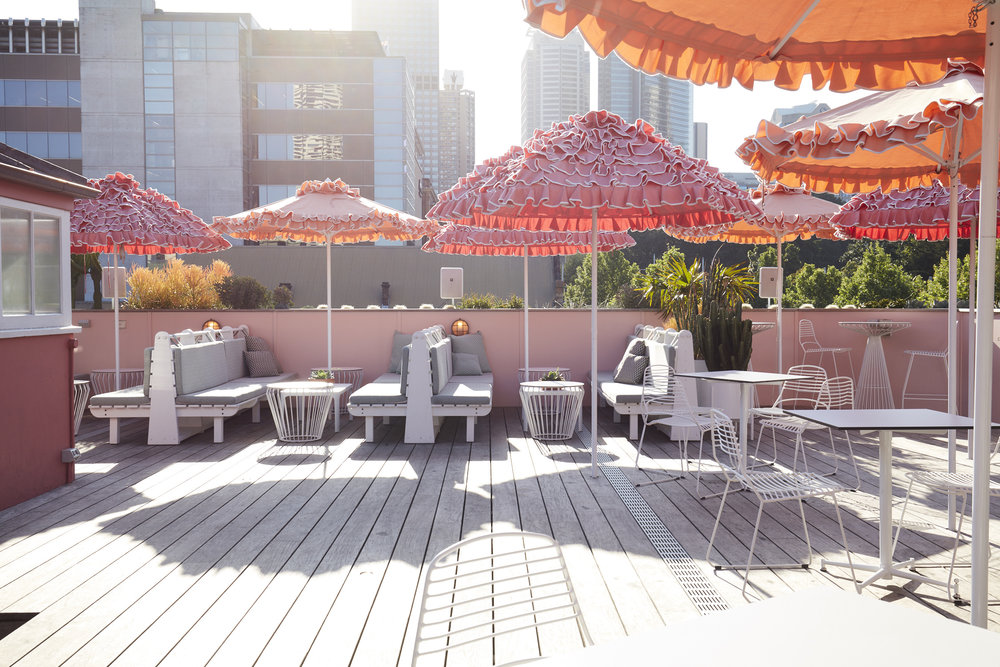 Climb the stairs at Hyde Park House and you'll be rewarded with the most vibrant and colourful rooftop bar in Sydney. The Palm Springs vibes are strong here, although that's far from the only reason for this rooftop bar's undying popularity. The kitchen pumps out some of the best snacks this side of Sydney, from fresh raw tuna tacos to perfectly textured pan-fried dumplings.
Address: 47-49 William St, Darlinghurst
Contact: (02) 8377 3650
Zephyr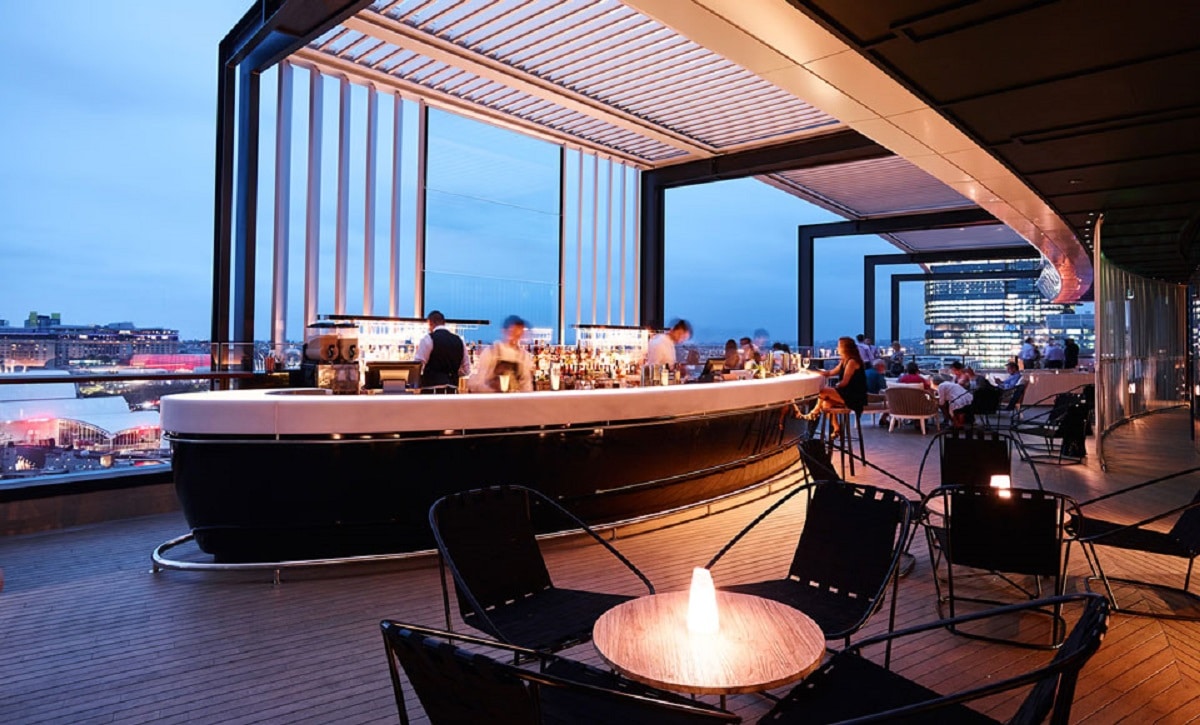 The best thing about Hyatt Regency isn't necessarily the rooms – as nice as they are; Zephyr is why every Sydneysider has been through those doors, offering up an incredible vibe and one of the most lavishly designed rooftop bars the city has seen. The drinks list unsurprisingly comes with a premium, but the bar staff here are quite nifty when it comes to a well-balanced classic cocktail.
Address: 161 Sussex Street, Sydney
Contact: (02) 8099 1234
The Glasshouse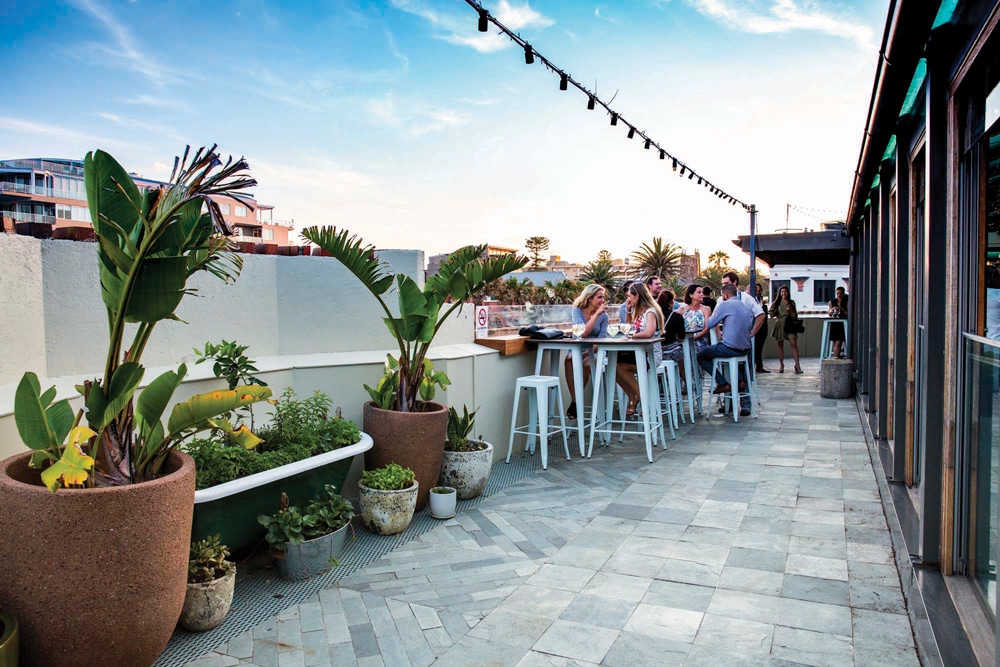 Hotel Steyne's sordid past is well-hidden by its fresh, squeaky clean rooftop bar, with views scanning Manly beach and the ever-busy Corso below. Fans of a good G&T will have fun trying to work their way through the sizable list of botanicals, best paired with some grazing plates while one of the best beachside suburbs in Sydney earns its reputation a thousand times over during peak summer. 
Address: 75 The Corso, Manly
Contact: (02) 9977 4977
Untied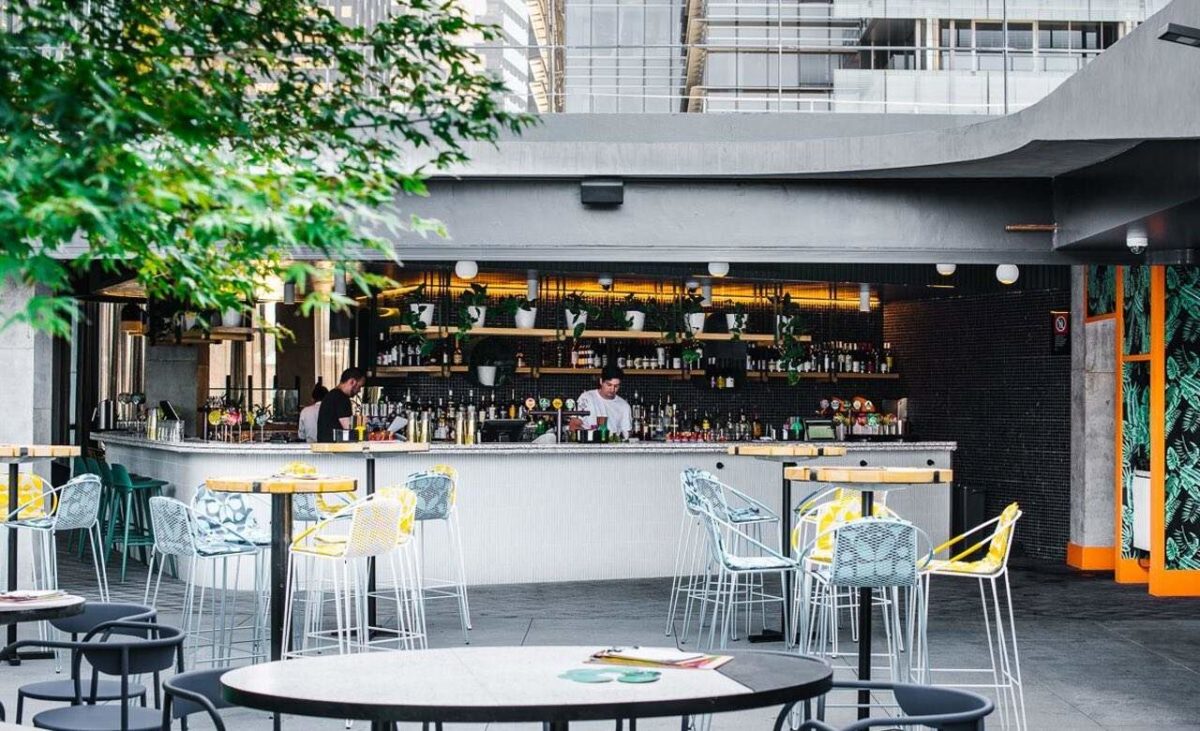 Barangaroo's slightly irreverent, playful rooftop bar is as popular as ever. Since opening a few years ago, Untied has become mecca for Barangaroo's after-work crowd, surrounded by towering office buildings but maintaining a safe enough distance to truly feel like a refuge.
Address: 400 Barangaroo Avenue, Sydney
Contact: (02) 8322 2099
East Village Hotel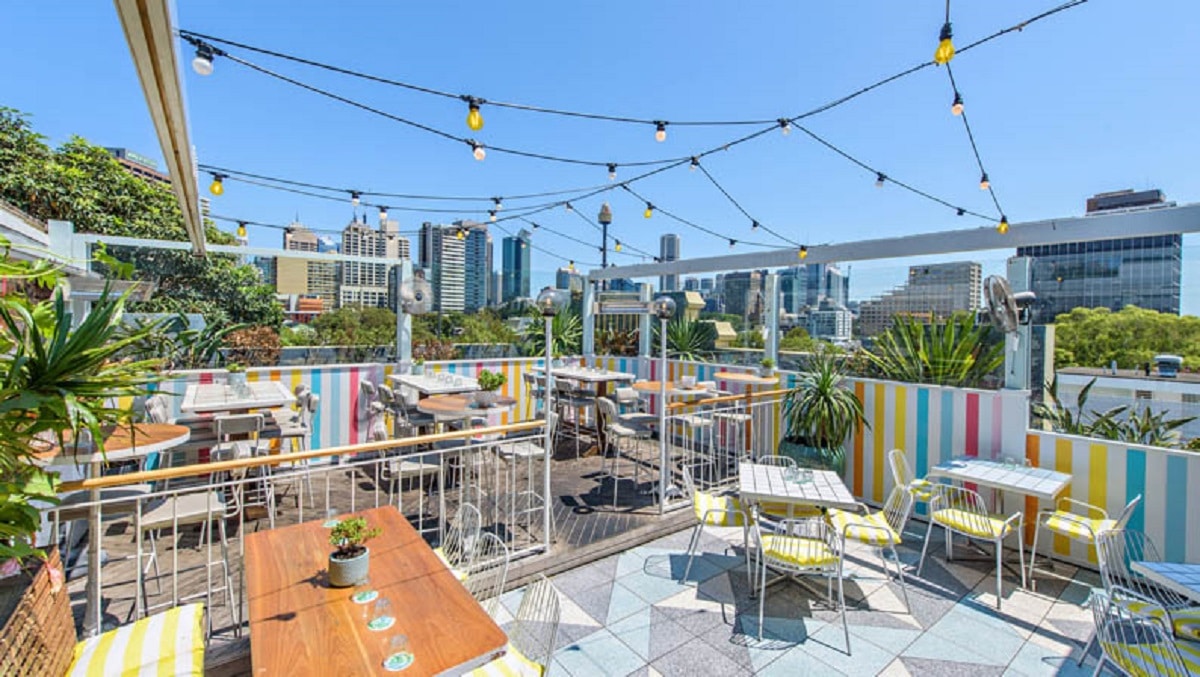 Fancy one of the best pub steaks in Sydney? You'll find the peppery beast up on the rooftop of Darlinghurst's East Village Hotel, made even better by the eternally festive atmosphere that's most ideal when you've come with the crew for some sundowners and general frivolity. This is another place that gets packed out quick, so you might have to plan ahead if you want to make the most of it. Note that there are a few East Village Hotels across Sydney – you want the Darlinghurst one.
Address: 234 Palmer Street, Darlinghurst
Contact: 0431 622 944
Rooftop Bar at InterContinental Sydney Double Bay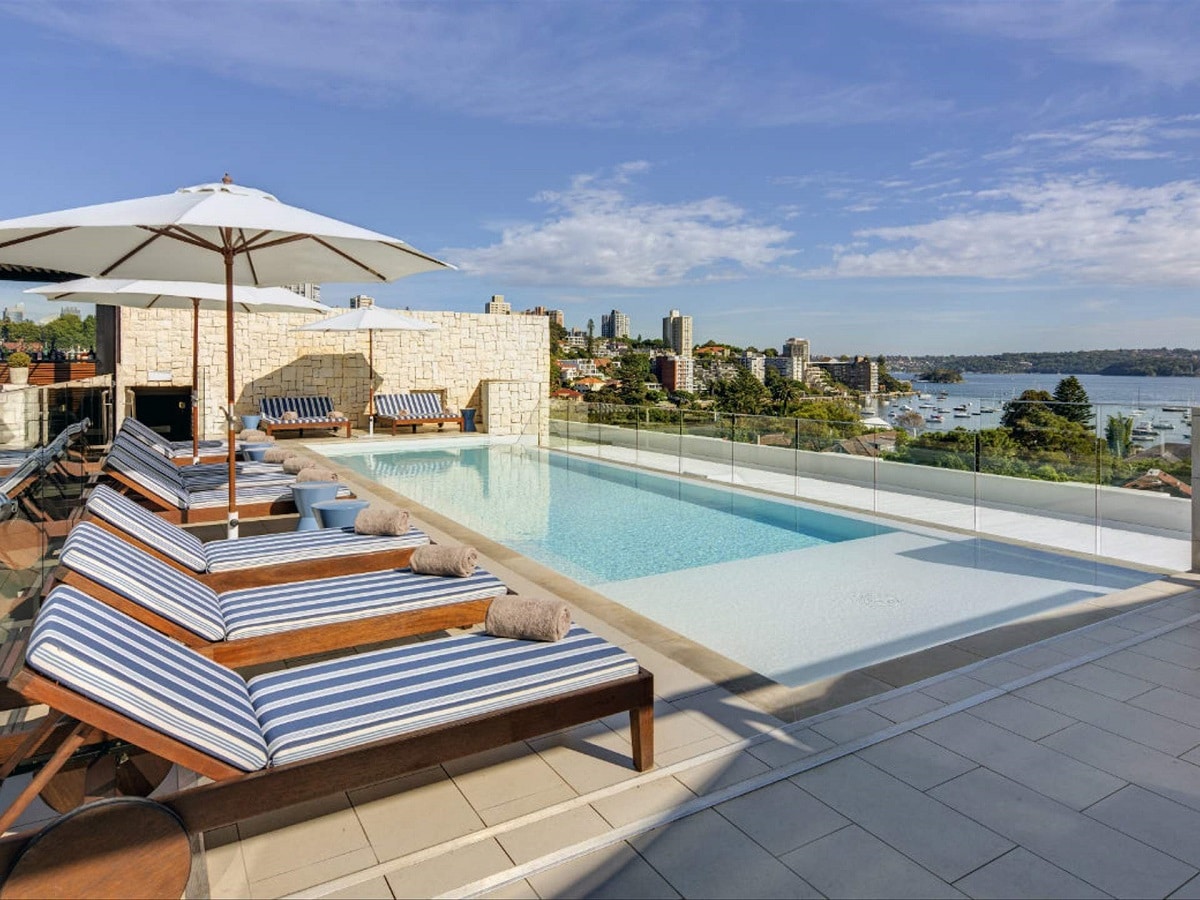 Pushing ivy Pool Club with a little bit of friendly competition is one of the only few rooftop bars with a pool that can even hope of competing with Hemmes' darling. While the pool here is nowhere near as big, InterContinental Double Bay have done well to offer a swim, beer and snack up on the exclusive rooftop, which offers one of the best views in the area.
Address: 33 Cross Street, Double Bay
Contact: (02) 8388 8388
Level Seven At Primus Hotel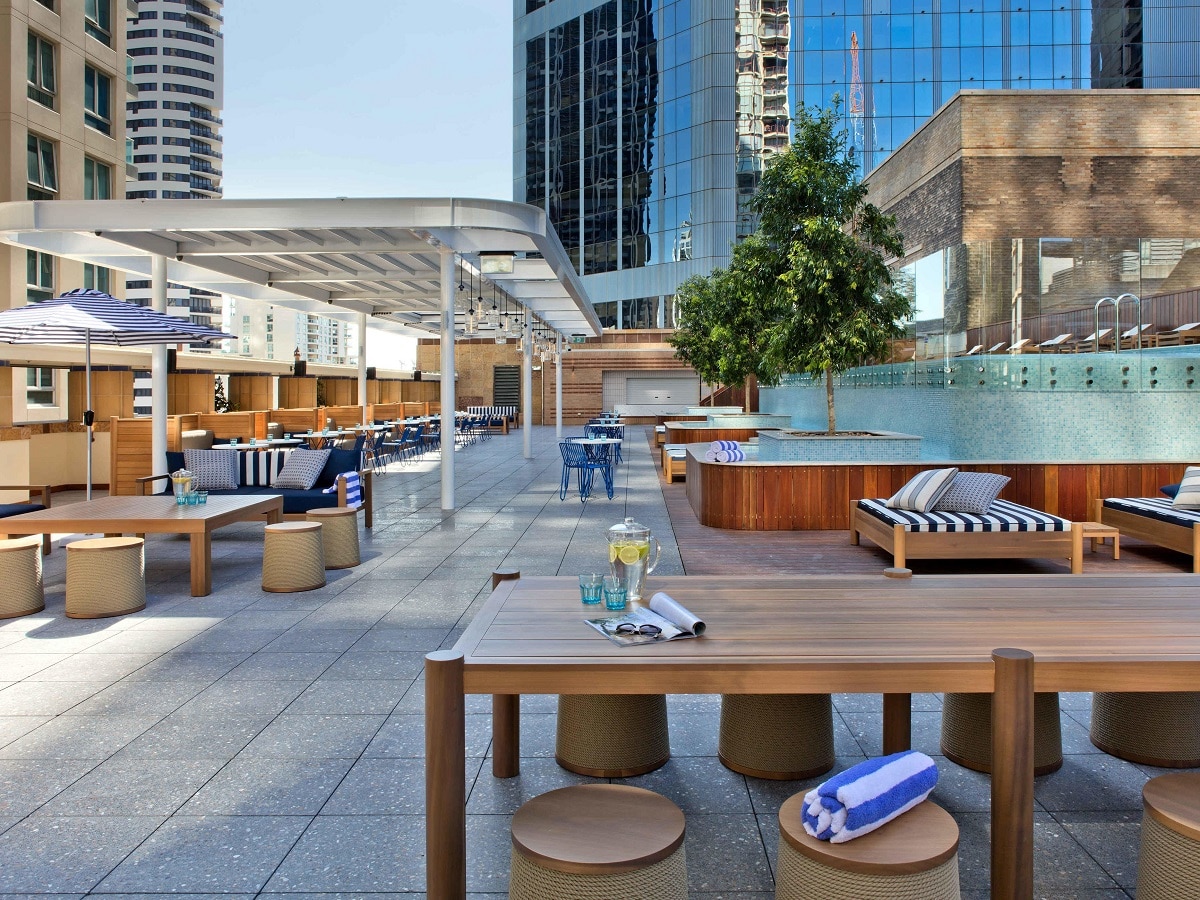 It's hard to believe that there was a time when Sydney didn't actually have any rooftop pool bars. That memory is thankfully hazy, not only thanks to ivy Pool Club and InterCon Double Bay, but this CBD hotel shines with character, cocktails and shimmering blue waters, looked down upon by Sydney's tallest skyscrapers. You'll likely need to book a table in advance, but few central bars can compete with this New York-inspired rooftop bar once you master the ol' dip-and-drink rhythm.
Address: Level 7/339 Pitt Street, Sydney
Contact: (02) 8014 5663
Rooftop At The Old Clare Hotel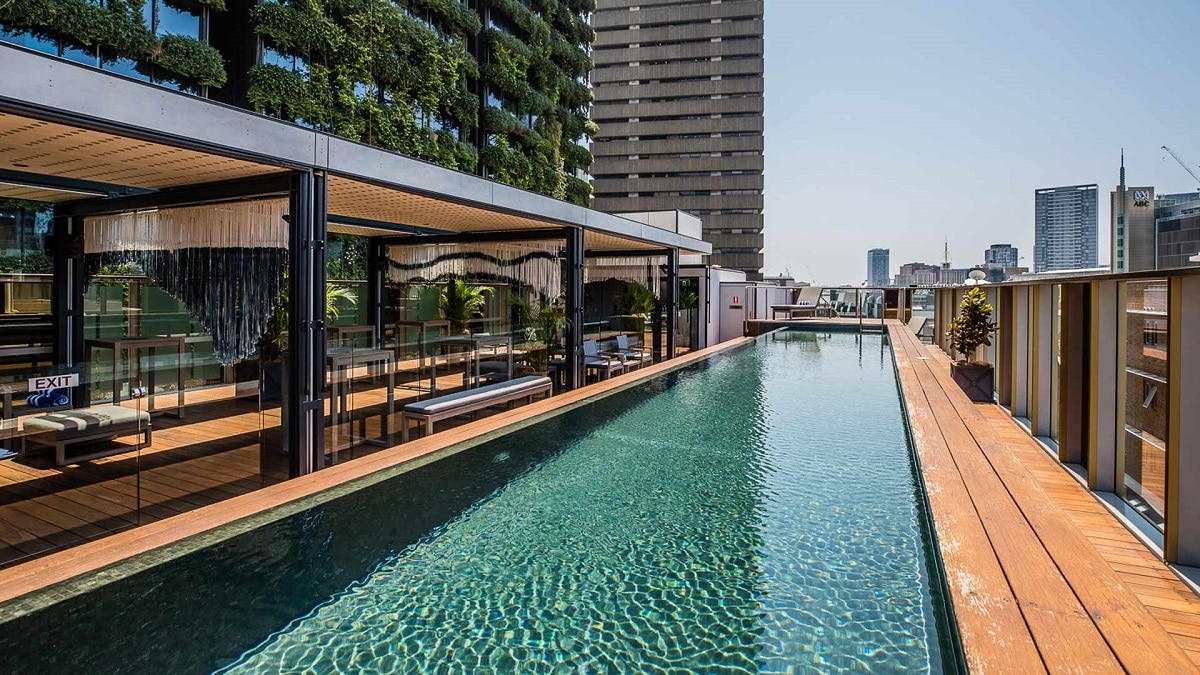 Backed by the hanging gardens of ritzy fresh-faced apartment blocks, the Rooftop upon the luxurious Old Clare Hotel in Chippendale is an absolute vision. An immaculately clean pool, a rich list of quality cocktails, and some decent food to boot. As with the other hotel rooftop pool bars, you'll probably need to book ahead – this isn't a first come, best dressed situation.
Address: 1 Kensington Street, Chippendale
Contact: (02) 8277 8277