Since when did Coogee get fancy? With Merivale's juggernaut dining complex Coogee Pavilion pulling a whole new calibre of patron to the sand-strewn suburb, it's not unusual these days to spot surfers sinking beers and suits doing "caviar bumps" in the same breath. Even Coogee Bay Hotel has cleaned up, recently launching a chic new seafood diner Marrah, boasting Mediterranean-inspired dishes and premium wines.
Down the road, the iconic Crowne Plaza Coogee has never looked more schmick following a multi-million dollar refurbishment, as well as the launch of an eye-catching new ground-floor dining precinct, Estate, back in March. The neighbourhood's days as merely a backpackers or locals hub are long gone.
A weekend staycation is the ideal window to get reacquainted with the revitalised stretch, and the Crowne Plaza is now a serious contender as your home base.
Just a 20-minute drive from the CBD, the Crowne Plaza sits smack bang opposite Coogee Beach, a few minutes walk from the Pav and a number of other cute coastal cafes, scenic walking tracks and ocean baths.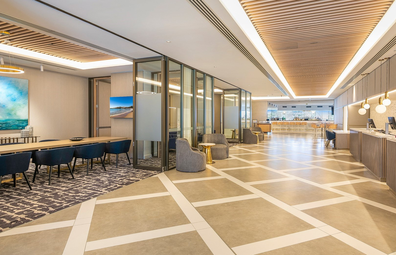 The venue has just finished phase one of its grand multi-million dollar redesign, which is perhaps most evident in the lobby, reimagined by Sydney firm Studioaria who specialise in high-end interiors. We're already feeling the Miami vibes when we check in. The beachy aesthetic weaves its way into the public spaces via distressed-style flooring, chic nautical soft furnishings and shell-inspired wall art.
The lobby-adjacent restaurant Shutters entices guests with an a la carte brunch menu, booth seating, stellar ocean views, and a clever patterned ceiling feature that casts striking dappled webs of light across the bar.
When we arrive it's the weekend, and the bar is open — serving snacks and classic cocktails — but we've booked lunch at Mimi's, the Pav's long-awaited middle-floor dining institution helmed by chef Jordan Toft.
For now, the onsite gym and sprawling level-two outdoor heated pool are open to guests, the latter with a 20 person capacity due to COVID-19.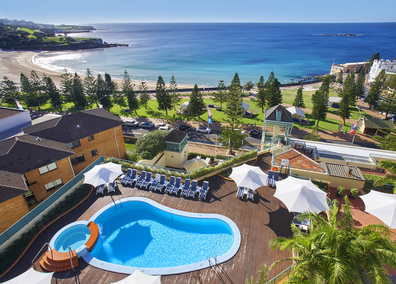 As we descend to the street to make our way to lunch, we get our first taste of Estate, the Crowne Plaza's buzzing new three-in-one dining precinct. From the lobby, a dramatic staircase takes you down into the complex's maze of dining and event spaces.
Stepping out into an astroturfed courtyard, Latin-leaning Terrace oozes Southern California vibes with locals congregating around a retro silver Air Stream bar and lounging on bean bags. Inside, Taqueria takes the Mexican theme to new, festive extremes with a bold colour palette and casual bar tables, while the more grown-up Kitchen channels the Hamptons with a breezy, upmarket aesthetic. The Terrace is already heaving with young, attractive locals, and we're tempted to linger, but Mimi's is calling.
After a short walk, we're seated in the gleaming dining room and immediately talked into a round of "Caviar Bumps" — at $32 a head, they're quite the splurge, comprising a nip of vodka from a bottle cradled in a block of ice and ceremoniously wheeled out to the table on a trolley. The shot is chased by one generous spoonful of Siberian sturgeon caviar doled out via a dainty pearlescent spoon. What the heck — we're on holidays after all! The caviar fails to "pop" in our mouths, as we're promised, but still sets the tone for our lavish lunch to come. The grilled lobster with hand-cut noodles and XL pipis in smoked chicken broth are decadently good.
But I've been looking forward to the next item on our itinerary all week — Estate's new private karaoke room, nestled in the back of their Mexican restaurant. For a $250 booking fee, redeemable in food and drinks, you and nine of your buddies can commandeer the (hopefully sound-proof) room for two hours and unleash some of that pent-up COVID-19 lockdown energy. The staff are wonderfully attentive, popping in regularly to take drink and snack orders.
When we finally retire to our corner King Ocean Front Room, we're immediately drawn to the balcony and that majesty of a view. The swishy waves of the beach beckon from our seventh-floor perch. Happily, the accommodation is finally on par with the view, with every room getting a chic, new art deco-esque bathroom, fresh furnishings and tech.
After checking out the following day, we linger for one last meal at Kitchen, and we're instantly glad we experienced it in the daylight hours. As we're among the first of the lunch set to arrive, we're rewarded with an ocean-facing table, but we're doubly delighted as our waiter flings open the opposite floor-to-ceiling glass double doors, and the distinct vacation aroma of salty water washes over us.
The Estate lobster roll is summery and satisfying, with hunks of lobster and lemony mayo sandwiched between a squishy, sweet brioche-like roll. In the spirit of holiday excess, we also order the whole flounder — it's enormous, even for two, and served with a spicy tajin butter and stack of tortillas to make your own tacos.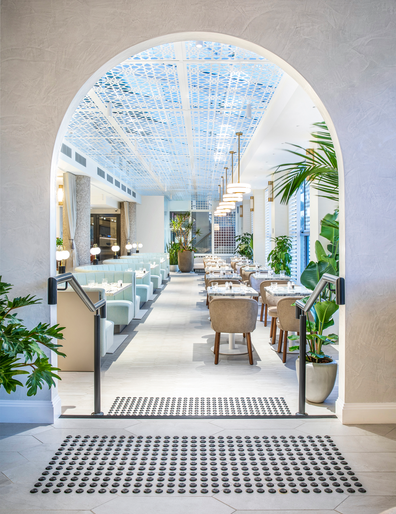 Stomach real estate is getting scarce now, so we don't get to try the Big Mac risotto, the triple cheese macaroni with lobster, or crowd-favourite Violet Crumble dessert — a medley of dark chocolate brownie, violet ice-cream and nitro salted honeycomb that our waiter assures us is a real crowd-pleaser. We don't doubt him. Lucky then, that unlike other far-flung weekenders, we can come back anytime.
The writer stayed as a guest of Crowne Plaza Coogee.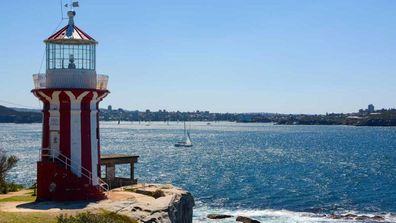 The best hidden stop on Sydney's new 80km walk